2014 Prize Winners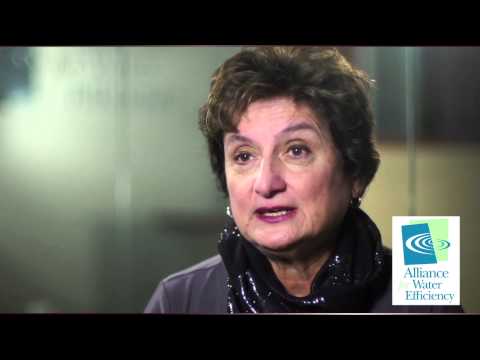 The Alliance for Water Efficiency (AWE) is the only nonprofit organization dedicated solely to promoting the efficient and sustainable use of water in North America.  Before AWE, no organization existed nationally to do for water efficiency what has been done for decades for energy efficiency.  Since opening in 2007, AWE has served as the leading voice for water efficiency and has carved a new path for this fundamental component of water sustainability, yielding significant results in just a few years.  AWE's platform brings together innovative technical resources to facilitate adoption of water conservation programs, cutting-edge research to address pressing challenges, a joined up approach to advocacy efforts, high quality expertise to equip professionals and consumers to make a difference, and above all, a collaborative dialogue amongst diverse stakeholders that enables real progress.  Integration, innovation and education are pillars of AWE's work.  AWE works to integrate water efficiency into resource management, climate resiliency, and energy policy planning. It unites multiple sectors to stress how efficiency benefits diverse objectives: utility economic viability, environmental benefit, jobs creation, and solutions at national, state, and local levels.  AWE has accomplished a remarkable amount in its first six years.  As testament to its success, more than 390 organizations have joined AWE's network, and membership is growing. 
American Water has spent 125+ years learning and growing in the water and wastewater industry.  Its dedication to research has ensured that it has the best information to make prudent decisions on behalf of its customers.  At a time when many utilities have feared doing research, American Water has been an example that an investment in research is a commitment to sound utility management and increased sustainability for current and future generations.
Today the Innovation & Environmental Stewardship team consists of more than 20 scientists, with a budget of more than $3 million, fully dedicated to environmental protection and research in the fields of engineering, chemistry, microbiology, public health, and environmental science.  In addition, the company's central laboratory in Belleville, Ill., supports research through sophisticated testing and analysis that sets the standard for water utilities.  American Water's research and development is trusted by industry leaders and prominent researchers around the world and is why authorities regularly use the information to help develop federal drinking water standards and regulations.
The research team has won many additional honors from industry groups, and has been awarded 79 competitive research grants totaling over $32 million from many different agencies.  American Water's unique program, called the Innovation Development Process (IDP), fills a vital need to seek new, cost effective, and sustainable solutions to allow technologies to be evaluated and to accelerate the adoption and market penetration of products or services that help solve pressing needs within the water industry.
Metropolitan Sewer District of Greater Cincinnati (MSD), which serves Hamilton County, Ohio, has embarked on one of the largest public works projects in the county's 200-plus year history. Project Groundwork is MSD's plan for addressing a Federal consent decree by reducing or eliminating sewer overflows into local creeks and rivers while creating community benefits.
A major initiative is MSD's Lower Mill Creek solution – a nationally recognized sustainable remedy for eliminating 1.78 billion gallons of combined sewer overflows (CSOs) annually into the Mill Creek. The remedy seeks to reduce CSOs by reducing the amount of stormwater entering combined sewers during heavy rains. The solution was recognized as an innovative and integrated approach that couples the infrastructure investments to maximize ratepayer benefit. This approach integrates green infrastructure (e.g., stream restoration, wetlands, bioswales, raingardens and stormwater detention basins) with gray (e.g., new storm sewers) to provide cost-effective solutions with community benefits including improved water quality, new jobs and neighborhood revitalization. The remedy includes projects in the Lick Run, Kings Run, Bloody Run, and West Fork watersheds.
The Lick Run watershed, which covers about 2,900 acres on Cincinnati's west side, is home to CSO 5, the largest CSO in Hamilton County. A central element in MSD's Lick Run Project is an urban waterway or Valley Conveyance System (VCS). The VCS will include a naturalized waterway with an aboveground meandering stream channel to convey stormwater to the Mill Creek. An underground stormwater conveyance box will be constructed beneath the system to handle heavy rain flows. Community amenities such as a multiuse path, lighting, an improved civic recreation space, parking and bridges are included for maintenance of traffic flow. Earlier this year, the LMCPR was recognized by US Water Alliance for the innovative approach spearheaded by MSDGC.
Orange County Water District and Sanitation District's Ground Water Replenishment System (GWRS) is the world's largest advanced water purification system for potable reuse. It takes treated wastewater that otherwise would be sent to the Pacific Ocean and purifies it using a three-step advanced process that results in high-quality water that exceeds state and federal drinking water standards. Operational since January 2008, the GWRS can produce 70 million gallons (MGD) of high purity water every day, which is enough new water for nearly 600,000 residents.
The GWRS is the result of a collaborative effort between the Orange County Water District (OCWD) and the Orange County Sanitation District (OCSD). In the mid-1990s OCWD needed to expand its Water Factory 21 and address continued problems with seawater intrusion. At the same time, OCSD faced the challenge of having to build a second ocean outfall. The GWRS resolved these issues.
Both districts shared the cost of constructing the GWRS. OCSD supplied OCWD with stringently treated wastewater at no charge. OCWD in turn agreed to manage and fund GWRS operations. OCWD is currently expanding the project to produce an additional 30 MGD, taking production to 100 MGD. The initial expansion will be complete in early 2015. The two agencies are also looking to complete a final expansion with an ultimate capacity of 130 MGD. Through this collaboration, the GWRS provides a reliable, drought-proof solution to sustaining water supplies and has emerged as one of the most celebrated civil engineering and water reuse projects in the world.
[flagallery gid=2]